Overview
Just South of the Arctic Circle, one hour from Luleå, half an hour from Boden and a 10 minute boat ride away from the Aurora Safari Camp you will find yourself at the fantastic Floating Safari Camp and sauna raft experience. In a hidden bay, in the large lake Degerselet in complete seclusion, you can bathe, bask, paddle, fish and enjoy yourself on an exclusive hire basis. The Floating Camp (an extension of Aurora Safari Camp) sleeps 6 people and is perfect for a couple, group of friends or a family.
Love life on the water
At the Floating Camp you can enjoy canoeing, kayaking, fishing, good food and sauna sessions beneath the beautiful Arctic skies in a floating paradise. Swimming is also a highlight in the lake - even though the Floating Camp lies in the Arctic Circle, summers are quite warm and you can expect water temperatures between 18-25C. 2 -Safari Style tents and 1- Double room. Comfortable tents with stylish interiors and relaxing views of the river, to help you unwind and relax
The kitchen is equipped with a 2 burner, gas BBQ and 12-volt fridge, next to the kitchen we have the dining area that fits 6 people. The floating camp also has a cosy fire pit which guests can sit around.
*Prices starting from: 12500SEK per night, exclusive use
Includes private chef/host comes and cooks all the meals etc. including preparing all drinks and snacks.
If you choose the fully catered stay at the Floating Safari Camp all meals and drinks are included. Breakfast, lunch, 4 course dinner and snacks and drinks that are served all day. There is always a house red, white, sparkling wine, and a selection of beer. A small bar is also available with whiskey, gin, vodka, rum etc
*Prices starting from: 12500SEK per night, plus 1750SEK for meals, per person, exclusive use.
Images: © Fredrik Broman/ ©Aurora Safaris/ © Northern Soul Journeys
Availability
June to September
Guests have access to the canoes, kayaks, paddle boards, basic fishing gear and life jackets - so they can enjoy their adventures comfortably and safely.
Included Activities & Experiences
When staying at The Floating Safari Camp, guests have access to all the equipment mentioned below, which is included in their stay. The guides are available to assist guests in exploring the area, providing either a starting point for independent adventures or accompanying them on their excursions.
Canoes
At the Floating Safari Camp, guests have the opportunity to explore the serene waterways surrounding the camp in canoes. Canoes are perfect for those looking for a leisurely paddle, a romantic outing, or a chance to connect with nature. Whether you're an experienced paddler or a first-timer, the calm waters of the camp's surroundings make it easy to enjoy a relaxing canoe ride.
Kayaks
Quietly glide through the water without disturbing the natural surroundings, kayaks are perfect for exploring the shallow bays and coves around the camp.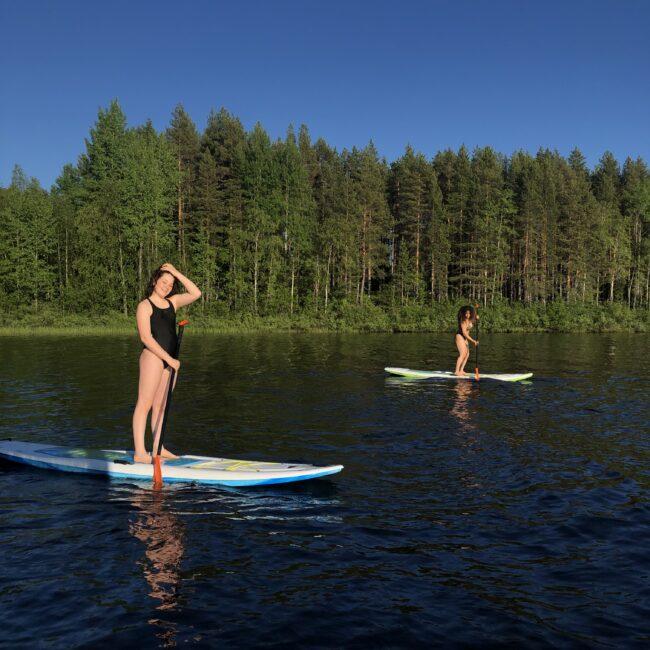 ©Aurora Safaris
Paddle Boards
A fun and challenging workout on the water, the Floating Safari Camp offers stand-up paddle boards to enjoy the beautiful scenery around the camp.
Basic Fishing Equipment
The Floating Safari Camp is on a crystal clear lake perfect for fishing. The camp provides all necessary fishing equipment, including rods, reels, and bait, all the basics to try your luck at catching something along the shoreline. Life jackets are provided in various sizes for your safety.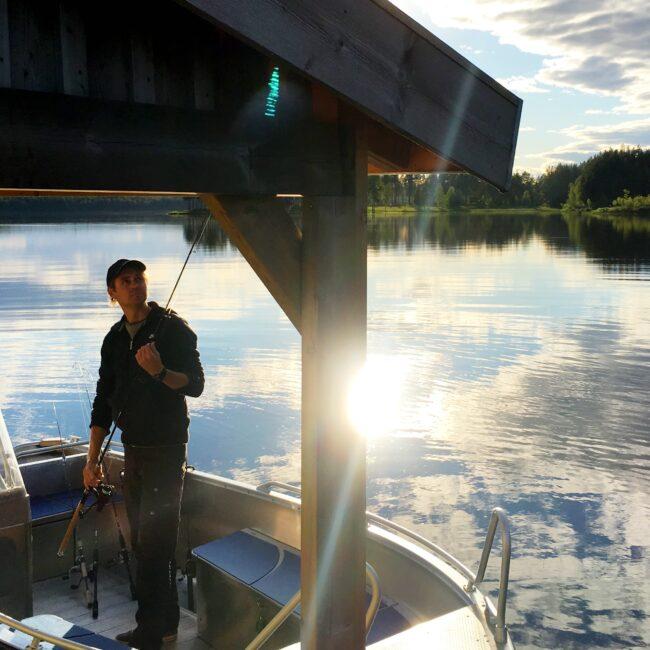 © Fredrik Broman
Accommodation at The Floating Safari Camp
Located just a short distance away from Luleå and Boden, lies an exceptional experience that promises to leave you in awe. The Floating Camp is located in a serene bay on the expa